Hotel Plan Bois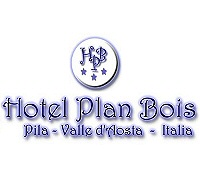 BOOKING FORM - RICHIESTA PRENOTAZIONE
---
HOTEL PLAN BOIS





Ubicazione: Situato nel cuore della conca di Pila dalla quale si gode di uno scenario unico, l'hotel dista soli 30 m. dagli impianti di risalita.


La conduzione familiare, la serena e tranquilla atmosfera del paesaggio, rendono piacevole il soggiorno, offrendo confort, calore, divertimento ed energia.


Camere: L'hotel è dotato di 22 camere tutte confortevolmente arredate con:


servizi privati
phon
tv
radio diffusione
frigobar
telefono diretto



Ristorante: L'hotel offre ai suoi ospiti una sala ristorante interna con cucina nazionale e cucina tipica valdostana.


Benessere: Agli amanti del fitness l'hotel offre un'attrezzata palestra o la possibilità di rilassarsi approfittando di una benefica sauna.





Bar,
Camere,
Giardino/Parco,
Zona panoramica,
Telefono in camera,
Ristorante,
Bagno con doccia,
Tv Color,
Acc.Disabili,
Palestra,
Sauna,
Frigo Bar,
Si accetta Carte di Credito,
---
Dove siamo:

---
PLAN BOIS HOTEL





Location: Situated in the middle of beautiful scenario of the Pila Valley, the hotel is near the modern tourist winter resort.


The family management offers you comfort and friendship for a pleasant and relaxing stay.


Rooms: L'hotel has 22 rooms comfortably furnished with:


private bath-rooms
hairdryers
tv
radio
minibar
telephone



Restaurant: The hotel gives to the guests the possibility to taste italian and typical Valle d'Aosta food.


Every meal is served in a inner restaurant.


Wellness: Well equipped gym and a relaxing sauna.





Bar,
Rooms,
Garden-Park,
Panoramic Area,
Phone in room,
Restaurant,
Bathroom with shower,
Tv Color,
Acc.Disabili,
Palestra,
Sauna,
Minibar,
Credit Card accept,
---
Where we are:

Hotel Plan Bois
Località Pila, Gressan, AO, Italy